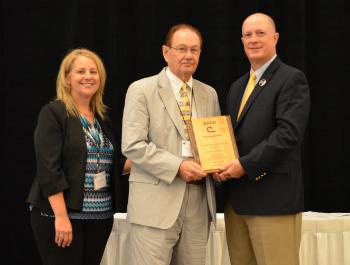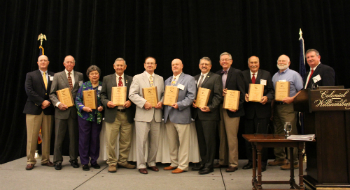 CHAIRMAN WILLIAM S. SIMPSON, III
2018 INDUCTEE INTO THE SOUTHEAST CONSERVATION HALL OF FAME
The Hall of Fame recognizes the nine-state, two-territory region who have made significant contributions to soil and water conservation to help insure the proper management of our nation's natural resources. Every year Conservation Districts across the state submit nominations to their state/territory associations. State District Associations then select ONE nominee to induct into the Southeast Region Conservation Hall of Fame.

In June of 2018, Charleston Conservation District submitted William S. Simpson, III, Chairman of the Charleston Soil & Water Conservation District, as their nominee to be considered as the 2019 South Carolina Nominee to be inducted into the South East Hall of Fame. Mr. Simpson was selected as the 2018 SC nominee for this very prestigious award, and was honored and inducted on August 6th, along with 8 other Southeast state nominee leaders to the Southeast Hall of Fame., held in Williamsburg, Virginia.

Mr. Simpson had an outstanding 40 years of service in Conservation. a native of South Carolina, a 1962 graduate of Clemson University in Horticulture, he has an extensive history with conservation and water resources. He joined the District as Commissioner in 1977 and has been Chairman since 1988. Congratulations Mr. Simpson! See 2018 Annual Newsletter for more information.




Charleston District 2020 Commissioner Election Results

The General Election was held on November 3, 2020. Charleston Conservation District had one position up for re-election. The result of the Commissioner election was the re-election of John H. Smoak. John serves the board as Vice Chairman and is a great asset to the Charleston Soil & Water Conservation District Board. In taking the Oath of office, a commissioner commits to exercising the rights and responsibilities of duties as spelled out in the Soil & Water Conservation Districts Law, 48-9 of the South Carolina Code of Laws. This law charges Conservation District Commissioners with the responsibility of providing first-line leadership in developing and implementing plans to meet conservation needs.

The Charleston Conservation District would like to congratulate John Smoak for his volunteer service to the District beginning in 2009. He will serve a four year term (February 1, 2021 - January 31, 2025). Congratulations John!



COMMISSIONER OATH OF OFFICE
Commissioners Hal Hanvey and Ford Walpole renewed their appointed positions on the Board by taking an Oath of Office from Chairman, William S. Simpson, III. Both Commissioners were given certificates to validate their oath! Commissioners volunteer their time without pay to promote conservation of our natural r
WILLIAM HAROLD HANVEY, JR. (HAL) REPLACES WOOLSEY'S ELECTED COMMISSIONER POSITION
Hal Hanvey was recently appointed Commissioner to the District Board, replacing Kathy Woolsey's resigned, elected position. Kathy remains an Associate Commissioner on the District Board and Hal is now in her elected position. Hal's term of office officially started June 22, 2017 and will end January 31, 2019.
Hal has served as an Associate Commissioner for the last 3 years and has an excellent background in Agronomy that he received from Clemson University in 1982. He has worked for over 25 years as the Farm Manager of Clemson University Coastal Research and Education Center where he interacts with Agriculture daily. Hal has stated that it is his belief that the care and sustaining of our soil and water is critical to maintaining the quality of life we now enjoy and hope to pass on to future generations!
Along with his busy work schedule, he is currently the Chair of the Board of Directors of the James Island Outreach, a local ministry that seeks to meet the needs of disadvantaged members of the James Island Community. He is a member of Epworth United Methodist Church where he was a former chairman of the trustees and sat on several committees. Along with his volunteer devoted time to the District as an Associate Commissioner, he has been a certified Crop Advisor since 2011 and in 2012 he received orientation and training in NRCS (Natural Resources Conservation Service).
Hal believes that it is important to make farmers aware of opportunities to incorporate conservation practices into their farm management plans without sacrificing profits. He also sees room for improved relations between conventional and sustainable and/or organic farmers with a better understanding of the need for both methods in order to feed the world.
Hal has an impressive resume that shows years of service not only to the SC Army National Guard, but devotion to his community and home here in Charleston, SC.
The Charleston Soil & Water Conservation District is proud to welcome Commissioner Hal Hanvey to the District Board!
Kathy Woolsey - Commissioner Resigns her elected position from the Charleston Conservation District Board
Kathy Woolsey, Commissioner on the Charleston Soil & Water Conservation District Board, resigned from her elected position on December 31, 2016 to serve on the James Island Public Service District as an elected commissioner. Kathy has asked to remain on the board in an appointed position. A motion to appoint Kathy Woolsey as an Associate Commissioner on the board was approved by the Charleston Soil & Water conservation District in our January Board Meeting. We are pleased to have Kathy continue to serve on our board and we thank her for her long tenure of service that started in 1988. Kathy is a resident of James Island, is married to Dr. Bill Woolsey, Economics Professor, The Citadel, and Mayor of James Island. They have two sons, William and Andrew. Kathy will continue to be a great asset to the District!
The Charleston Soil & Water Conservation District hopes to fill the empty position in the next couple of months.